News
Today at 12:00 pm is the deadline for online registration. If you have not registered your student, online or in person, you must do so by noon today, Aug. 6th, 2020.
The Difference: Parent Home, Virtual, & In-Person Learning--> https://5il.co/j12r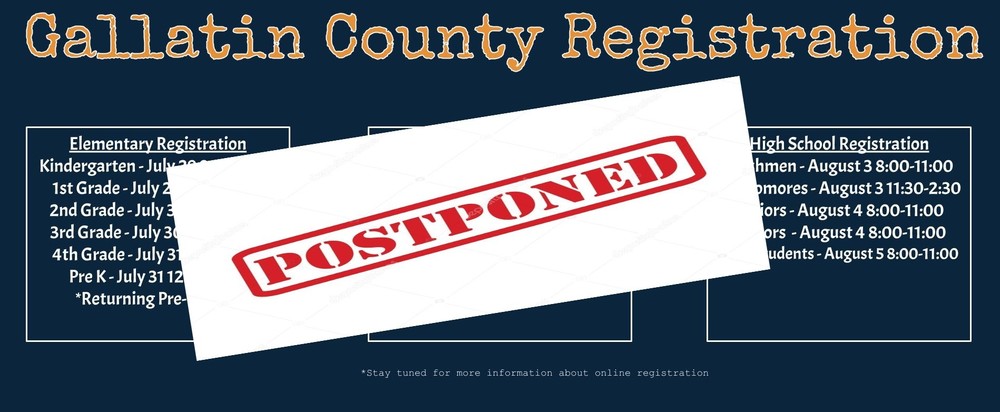 Good Afternoon, In person registration for Gallatin County Prek - 12th has temporarily been postponed for this week. We have done this to help maintain social distancing...
SEE ALL NEWS
LIVE FEED

Jara Mitchell
3 days ago
Students, Parents and Guardians:
The Gallatin County Board of Education decided during last night's meeting to give teachers an additional Remote Learning Plan Day on August 14th, therefore, students will not be in attendance this day. Administrators are working on schedules to bring back 20 percent of each class Monday through Friday August 17-21. The student schedules will be emailed to each student on Monday, and the student's homeroom teacher will also contact them on Tuesday, August 11, to confirm which day they should return to school. This will also allow Mr. Holloway, our Technology Director, time to inventory every device given to students and allow teachers to have a small group of students to teach Google Classroom and school safety practices which have been put in place. Students will receive practice remote assignments and learn how to use Google Meets. Teachers will also do a practice google meets session with the class. This initial short term low percentage of students will allow Gallatin County Schools and the local health department to gain a better understanding of our county's COVID 19 situation and look at the current trends in our area before students fully return to the classrooms. The board will have a special meeting on August 20 to discuss the current COVID trends in collaboration with the local health department to decide if a full return is possible or a remote start would be a better option at that time. This situation is evolving and we will do our best to keep our staff, parents, and community members informed. To best protect our school community we must stay flexible and make decisions based on the most current information. . Please be patient as this is new territory for all of us! The safety of the students, staff and our community is our first priority. Please take care, we will be in touch through email and phone calls soon.

Lane Wenzel
6 days ago
Have you registered your student for school yet?
Online registration for students in grades 1st-12th will end this Thursday at Noon.
In-person registration for those who are not able to access the forms online and new student registration will continue tomorrow at the school from 8:30-2pm.
In order to prepare for class sizes we need everyone registered before Friday, Aug 7th!


Ms. Dennison
9 days ago
Junior High Baseball Tryouts:
With the circumstances we are dealing with this year, baseball tryouts will be done individually.
Each tryout will be done in 15-20 minutes.
If you are wanting to tryout, you will need to call the Jr. High Office and have your name put on the list and then schedule a time for your individual tryout.
You must provide your name, grade, and a reliable cell phone number so you can receive information about the tryout via text.
All names must be on the list by 2pm on Tuesday, August 4th.
Tryouts will then be on Thursday, August 6th.
All who sign up must have a physical in order to tryout and you must turn in an athletic handbook packet.


For tryouts:
Each student will be assigned a time to arrive, please do not arrive more than 5 minutes before your assigned time and must remain in the vehicle until their tryout time.
Students must arrive dressed (hat, shirt, baseball pants, cleats, etc.) and ready for tryout (have baseball equipment).
Students must be wearing a mask for their tryout.
Each student's temperatures will be taken at arrival of tryout.
Those that bring students for tryout must stay through the tryout, any student that is dropped off, will be dismissed and not allowed to tryout.
Those that bring students for tryouts will be required to remain in vehicles.
Once a student's tryout is done, they will need to take all their equipment and return to their vehicle and leave.
The Coach will post a list of students that made the team by Friday, August 7th.
He will text those that made the team with information about practices

Ms. Dennison
9 days ago
Jr. High Cross Country is open to all 5th-8th boys and girls. Sign ups will occur August 14. Practices will begin the following week. You can also email Coach Dennison at mdennison@gallatincusd7.com and let her know if you would like to join.
If interested please practice on your own at home, working your way up to a 1 mile run with no walking.
You must have a physical by Aug.14 and turn in your athletic handbook by Aug. 17. More information will be posted at a later date
SEE ALL POSTS