Gallatin Parents, Guardians, and Students, The National Weather Service expects different parts of Gallatin County to have an accumulation of 1-3 inches with heavy snow during the middle part of the school day (between 9:00 a.m. and 3:00 p.m.) Gallatin County CUSD 7 will not be in session today, Thursday, January 6th. This is a "snow day" no schoolwork for students. This weather is expected to create hazardous road conditions everyone stay safe and warm!

Exams that were postponed until jan 4th and 5th are now optional for students. The Exam grade can only help students grade not hurt their grade. Students will decide if they want to take exam on the January 3rd exams will be given on January 4th during regular class time. We did this to allow our students chances to improve grades and also to help reduce stress over the Holidays. We hope everyone enjoys the Holidays.

Parents, Guardians and Students, Gallatin County CUSD 7 school buses will roll out of the district filled with breakfast and lunches prepared by our cooks today Friday, December 17, 2021. Buses will be at our regular stops in each town, and we will run our country route delivery also. We want you to have a sack full of food and a joyous Christmas. Meals should arrive in towns around 10:15am today! GO and Get You some delicious breakfasts and lunches they are going to be yummy for your tummy!! Merry Christmas to you all!

Parents and Students of Gallatin County CUSD 7, Due to Covid and other viruses affecting district students and staff starting tomorrow Thursday, December 16 and on Friday, December 17th we will take an adaptive pause from in person learning and move all students to remote work from home. All staff will report to school to work from their classrooms and will hold google meets with the students. Students should check their google classroom for the time of their meets and assignments before 8:30 am tomorrow. High School exams are rescheduled for January 3rd as a review day and exams will be on January 4th and 5th. We need all students to check google classroom for information from your teacher(s) the next two days. Starting tomorrow all sports practices and games are suspended until further notice. Coaches will need to contact the athletic director with questions. As of now, we will return to school on January 3rd, 2022. We pray this pause will allow students, staff, and families of the district to be well and be able to enjoy their Christmas Season. Have a very Merry Christmas and Happy New Year!

The following scholarships have been posted to Mr. Cruson's Google classroom: The following scholarships have been posted to Mr. Cruson's Google Classroom: Electric Coop Scholarship- Due Date December 31st, 2021 CBAI Banking Scholarship- Due Date March 2, 2022 Farm Credit Scholarship- Due February 28, 2022 Gibson-Briscoe Charitable Trust Scholarship- Due March 1, 2022 Shawnee Communications- Foundation for Rural Service Scholarship Due Date- February 22, 2022 - This scholarship found at:
https://www.frs.org/programs/youth-programs/scholarships

The Gallatin County After School program has been cancelled for tonight November 29 th

Gallatin County High School Student, Hallie Zirkelbach, is doing a community service project for a college class she is taking. She is hosting a "New to You" free yard sale tomorrow starting at 8:00 am at New Hope Church, just north of Ridgway. Please come out and "shop" at her event ….. the price is right!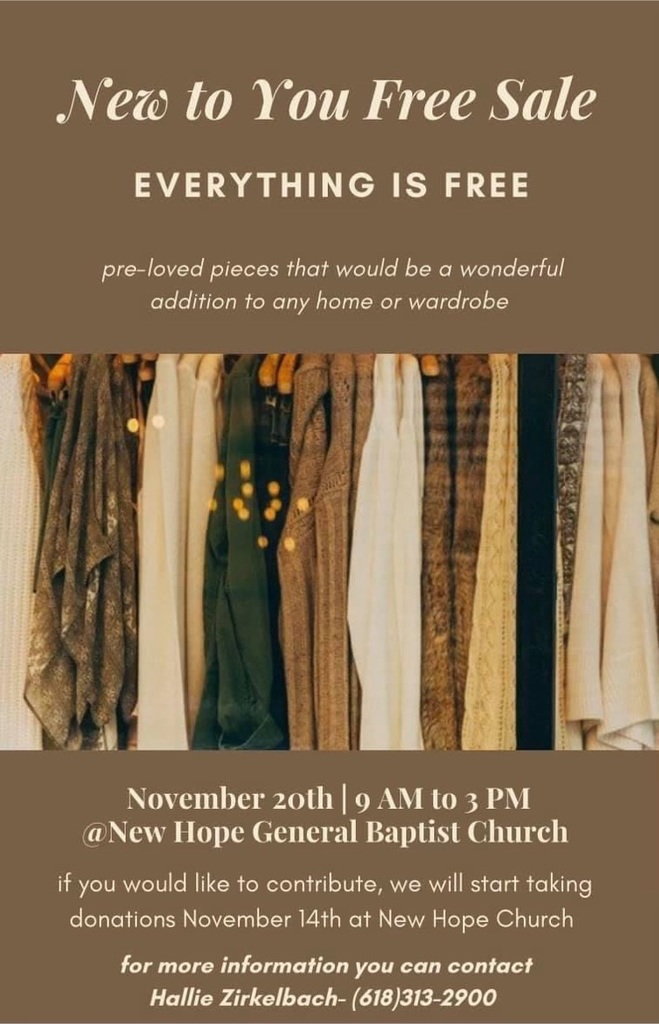 Sign up for High School Softball tryouts are in the high school office, they will be there until this Thursday, November 4th. Tryout dates will be announced later.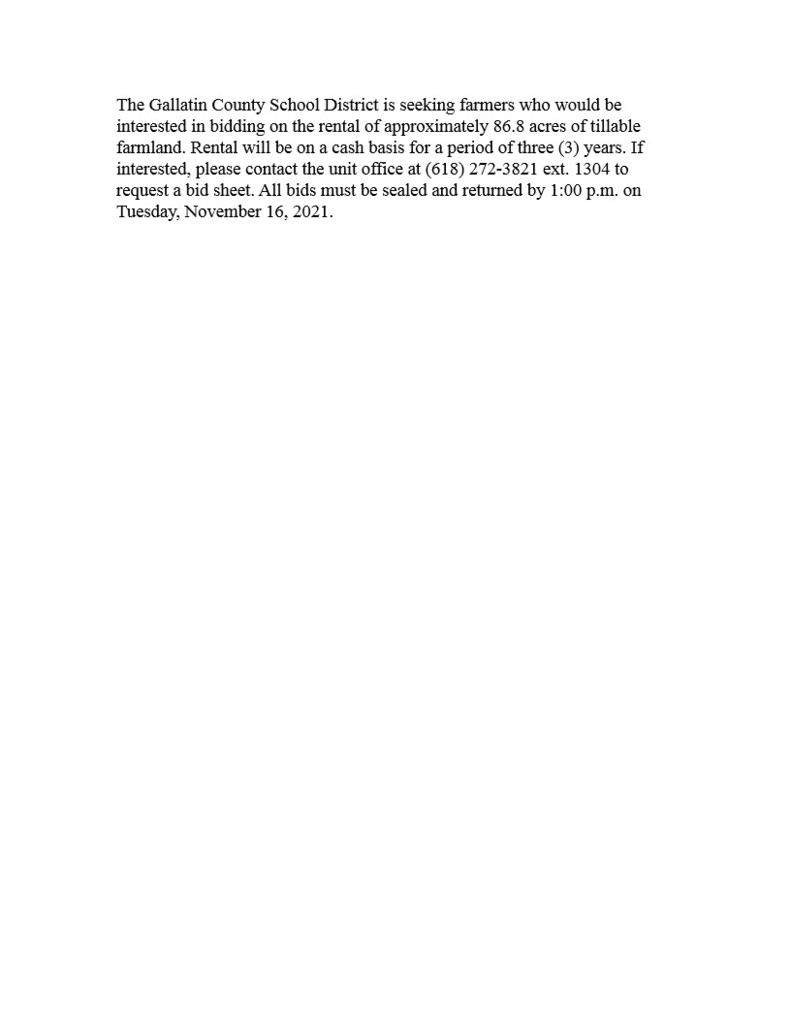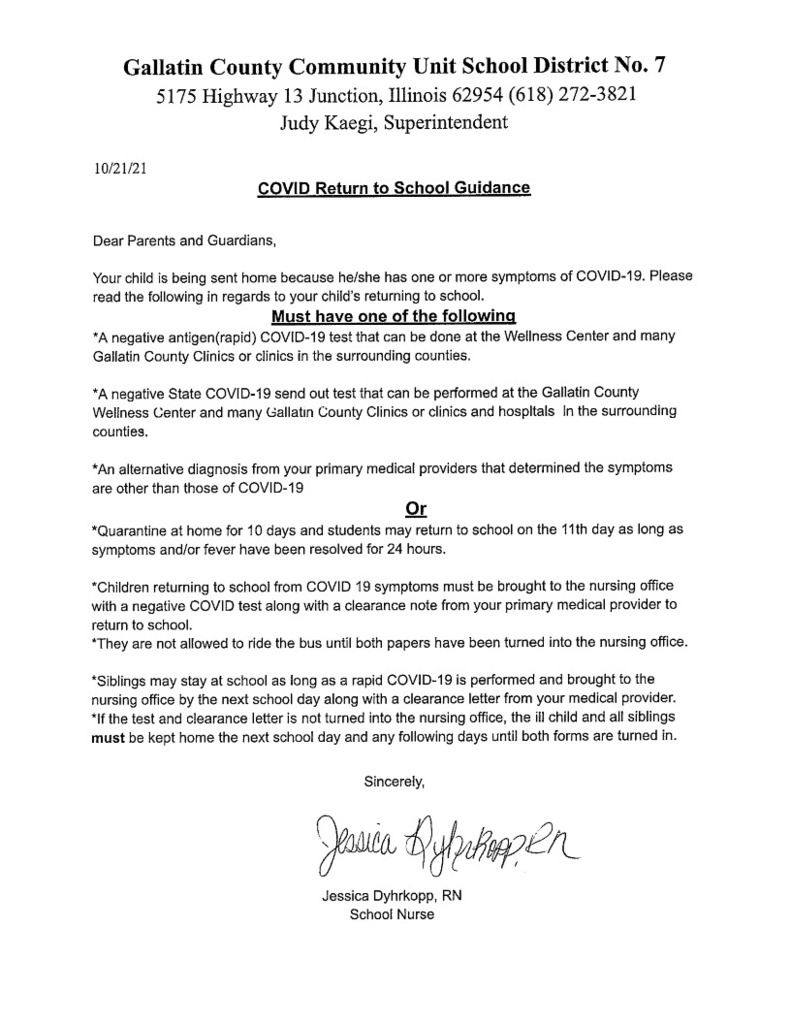 Reminder, Wednesday, October 20th and Wednesday October 27th , 2021 is a 2:00 dismissal for Parent Teacher Conferences.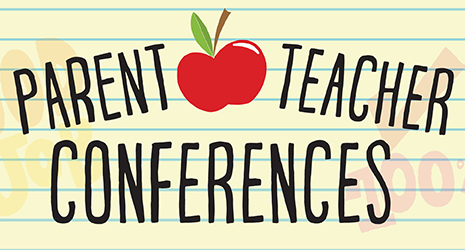 The Marching Hawks performed at Carmi Corn Days!

FAFSA night is happening tonight and tomorrow night- 3:30- 7 We still have a few openings tonight if anyone is interested, we also have openings tomorrow night. Call 618-272-5141 ext. 1240 or email
dcruson@gallatincusd7.com
Just a reminder to 12th graders and parents of 12th grade students- FAFSA completion nights are tomorrow and Wednesday from 3:30 until 7. You will need to make an appointment and time slots are still open. Appointments for both days can still be made by contacting Mr. Cruson at the school 618-272-5141 or by email-
dcruson@gallatincusd7.com
2020 tax returns are used for FAFSA completion and both parents and students must apply to get a PIN number to complete the forms- FAFSA ID- to obtain your ID go to:
www.StudentAid.gov/fsa-id/create-account/launch
Just a piece of information, for those 12th grade students working on their FAFSA- you will need your parents 2020 tax returns when working on the financial portion of that information (Not 2019 forms) If you are not coming in on the financial aid completion nights and opting to do it on your own, please make sure you are working on the correct FAFSA year (22-23) not the (21-22) form.
12th grade students and parents/guardians- Don't forget to contact Mr. Cruson at the school to get an appointment to get the FAFSA completed. Spots are still available Oct. 5th & 6th 3:30-7pm contact Mr. Cruson 618-272-5141 or
dcruson@gallatincusd7.com