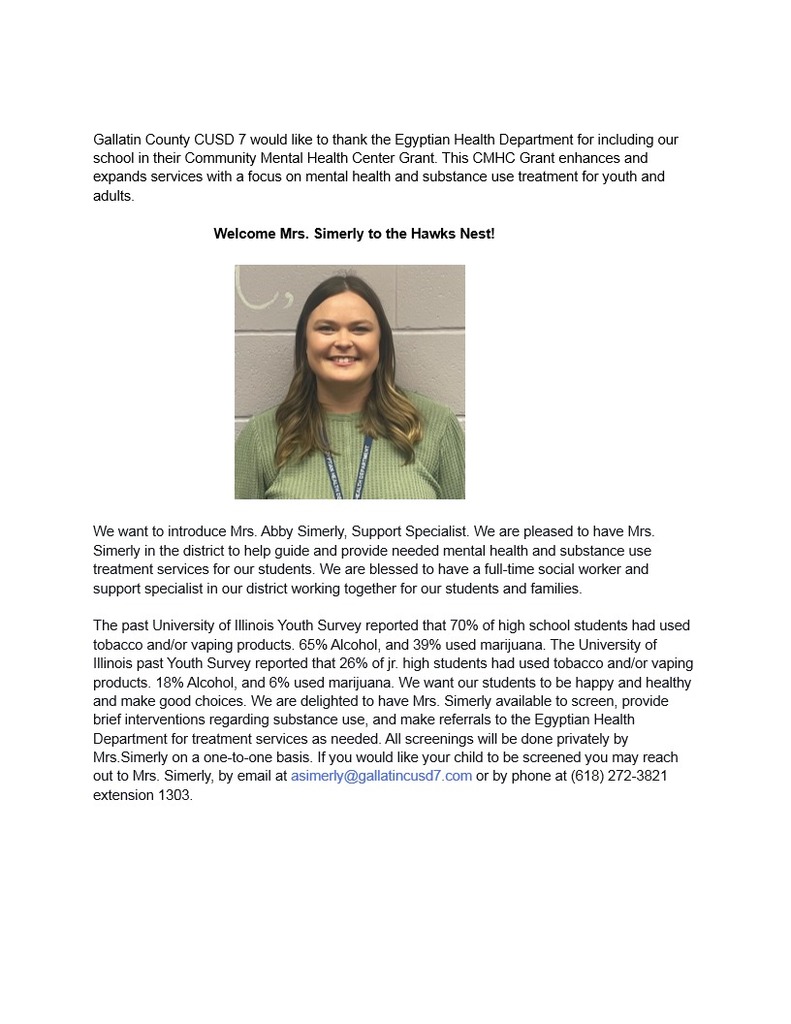 Parents and Guardians, We are looking for more 'Little Hawks" to bring into the district. We have received an additional Pre-K grant and will open a third Pre-K Classroom this 22-23 school year. Pre-K screening days were last week; if you missed it and would like to send your three or four-year-old to Gallatin County Preschool this year, we now have open spots. Call (618) 272-3821 extension 1308 to set up a screening for your child. Our Pre-K Teacher Leader, Mrs. Brandi Respondec, will conduct screenings. We are excited to offer our community this additional classroom. Don't delay; call today!
Attention Seniors that are interested in the University of Southern Indiana (USI) This is a letter I received about free application for the month of September- Dear Counselor, We know that, for students, senior year can be overwhelming, so we are here to make things easier! That's why we invite your seniors to submit their admission application for free during the entire month of September! Please promote this opportunity to your senior class. On the payment screen, students should enter the promo code: collegego22 Thank you for the vital role you play in your students' lives and for encouraging them to take advantage of this opportunity! Undergraduate Admissions University of Southern Indiana 8600 University Blvd. Evansville, IN 47712 812-464-1765
enroll@usi.edu

The boil order is non longer in effect for the district. Water fountains will be re-opened today. Have a Wonderful Wednesday! Dr. Kaegi

Reminder Students, Parents, and Guardians: The school is under a boil order due to the water main break on Friday. You may send bottled water to school with your child today. For safety, the fountains were covered by custodians on Friday. Each classroom does have an emergency case of bottled water. We should be notified today how long the boil order will last. Have a Marvelous Monday! Dr. Kaegi
Seniors- Monday September, 12th - Murray State University will be here at 1:30 to speak to students that are interested in Murray or learning about what Murray has to offer. Also, Seniors, if you haven't accepted the invitation to join Mr. Cruson's google classroom yet, please do so - Information about Scholarships, financial aid and important college information is currently posted and will be updated each week.

Good morning we are experiencing a water main break . Because of this we have no water for drinking , fire sprinklers or restrooms. We are going to have to dismiss early we will be dismissing at 10:00 today. We are sorry for the inconvenience.

Tri-State Food Bank out of Evansville, IN will be at the Shawneetown City Hall today September 2nd from 11:00 am to 1:00 pm to hand out free food boxes. It is 1st come 1st serve with each family getting a free box of food. All families, no matter your income, are eligible for the food box giveaway today. We invite all of our Gallatin families to go to the City Hall in Shawneetown today and get a box for your family! Have a great Labor Day weekend!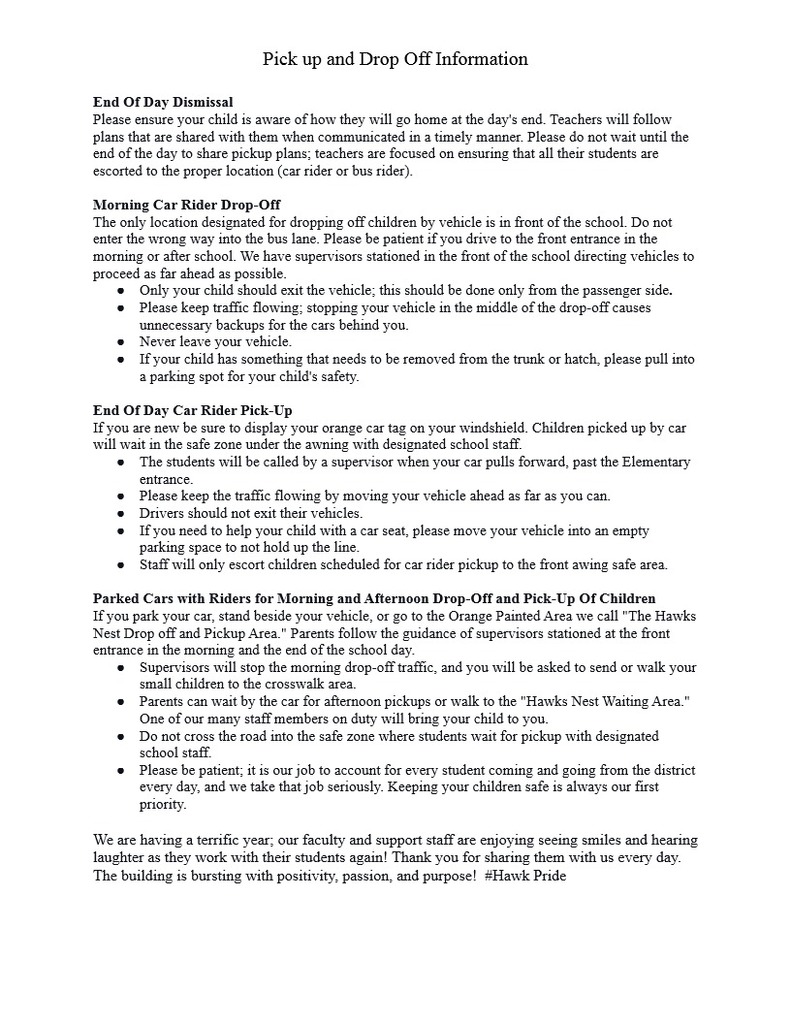 We had a great first day of school! We are looking forward to seeing everyone tonight. Open house begins at 6 p.m. with free hot dogs, chips, drinks, and popcorn. Students will have the opportunity for a free haircut. There will be several other giveaways as well, including a smart TV! Students may bring supplies and locker decorations. Also, this is just a reminder that there is a parent meeting for all high school athletes at 5:45 in the library.

It is time for the HAWKS to return to the nest! The 22-23 school year begins for Gallatin CUSD 7 students with a 1/2 day student attendance on Monday, August 15, 2022. Buses will leave the district at 11:15 a.m. Do not forget to come back to school from 6:00-7:30 for OPEN HOUSE NIGHT. We encourage to bring your child's school supplies and locker décor and come and eat with us. Pat K. and the Kitchen staff will be grillin and chillin! The first full day of school is August 16. To stay connected and informed this school year you can download our school app on your phone. Go to the app store and search gallatin county school, il and visit our school website regularly at gallatincusd7.com

Mark your calendars! Back to School Night will be held on Monday, August 15 at 6 p.m. There will be an opportunity to meet/greet teachers, free food, haircuts, TV giveaway and MORE! We are asking that all school supplies/locker decorations be brought in that evening if possible. We can't wait to see everyone!

Online district registration will be held on August 1 and 2. Parents may click the registration link on the website or visit TeacherEase to register their child. If you need in person technical assistance, you may visit the school on August 1 or 2 between 9 a.m. and 2 p.m.

There will be no school tomorrow for students Thursday, May 26. Students return for their last day of school on Friday, May 27 all students will be dismissed at 11:15. Report cards will be sent home with students. HAWKS LUNCH BUNCH is scheduled to begin Wednesday, June 1st. Meals will be delivered on Mondays (Includes Monday/Tuesday meals) and Wednesdays (Includes Wednesday/Thursday/Friday meals). inside). Meals available at the following areas: New Haven at the community center at 11:15. Equality Fire Dept. at the fire station 11:30. Old Shawneetown delivered at 12:00 door to door by Nell Rosser. New Shawneetown at the Ohio Valley General Baptist Church Fellowship Hall 11:30-12:30. Ridgway at St. Joe Ball Field around 12:00. Country Route will remain on same schedule as last year. If you need to be added to the list please message or call Ms. Anita Golden (618) 525-4128. We want to keep this program going; in order to do that we need you to come and participate and get your free meals! We will gladly feed adults! We look forward to serving our community another year with this amazing food program!

Get ready Get ready: It is the last week of school for Gallatin County CUSD 7 students! Monday, May 23; Tuesday May 24; and Wednesday May 25 will be regular attendance days for students. Thursday May 26th is a teacher institute day NO students attend, and Friday May 27 will be a half day for students to pick up their report cards. Students please return all of your books and electronics to your teachers this week and pay any final fees owed. Summer Enrichment Program will begin June 1st. Students who enroll will receive more information soon. Have a wonderful week and let's wrap up this school year with joy and laughter!

Just a reminder that our last full day of school is Wednesday, May 25th. There will be no school for students on Thursday, May 26th. Friday, May 27th is a half day of school for students to get their report cards and take home the remainder of their school supplies. Monday, May 30 is the official start of summer break. Wednesday, June 1st is the first day of summer school for those that apply, but please remember that seating is limited. Have a great weekend!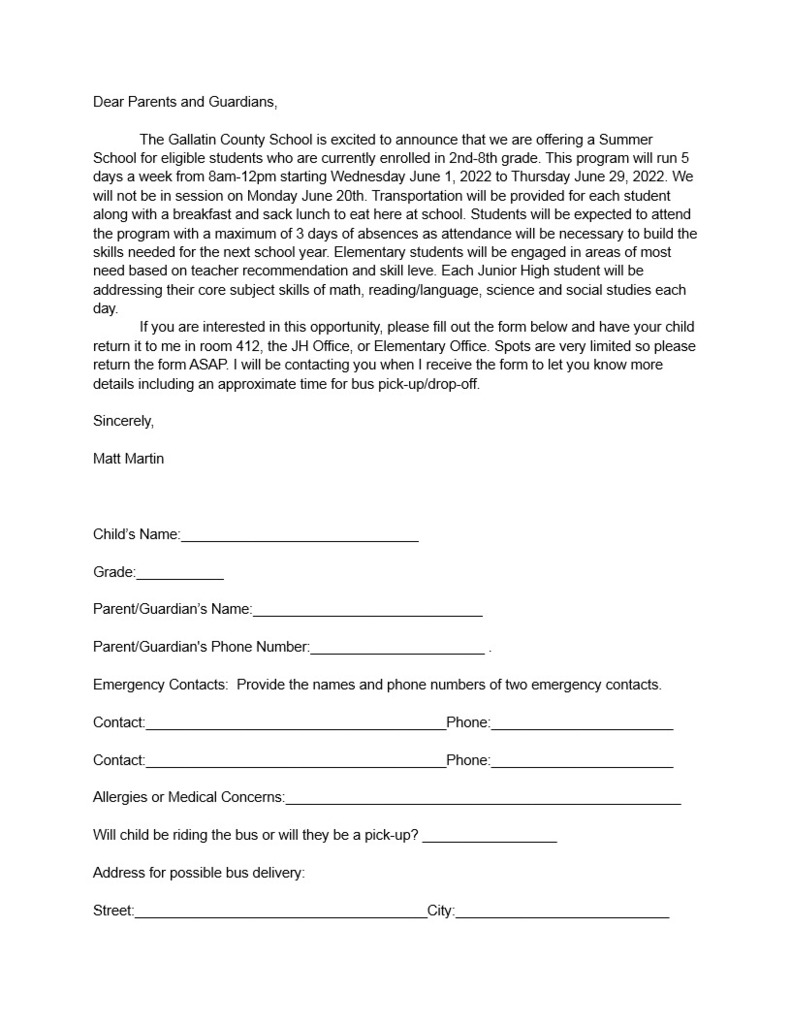 The Tri-State Food Bank from Evansville Indiana will be delivering free food boxes to the Shawneetown City Hall TODAY, Friday, May 6 at 1:00 P.M. There are NO REQUIRMENTS to pick up a free food box just need a signature and it is yours. ALL CITIZENS ARE ENCOURAGED TO PARTICIPATE! Come and Get it!